Dr. Heidi A. Novack, DDS - Indian Head Park Cosmetic Dentist
Dr. Heidi Novack is committed to providing excellence in dentistry, and stands out as a leading dentist in Indian Head Park. The doctor uses the latest in dentistry techniques to provide you with a beautiful and healthy smile. Read more about Dr. Heidi Novack below.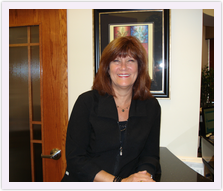 Heidi A. Novack, DDS
After nearly 30 years of practicing dentistry, Dr. Novack has perfected her techniques in cosmetic and general dentistry. Dr. Novack was one of fourteen women who graduated from the Loyola University Chicago College of Dental Surgery in 1982. Doctor enjoys her continued education courses and seminars to keep her practice up with current trends, research, and products. Additionally, Dr. Novack believes strongly in education to prevent oral health problems before they occur, and makes sure to keep patients fully informed about their dental health.
Dr. Novack enjoys the fast-paced atmosphere of a dental practice and the versatility between each patient and each case. When asked what her favorite component of a career in dentistry is, Dr. Novack's response was, "the cosmetic aspect because I love to see people look in the mirror after I am finished and instantly gain confidence with their new smile." Dr. Novack is a compassionate, practical dentist and strives to provide services that are most condusive with each patient's needs and abilities.
When not at the office, Dr. Novack enjoys shopping, watching Dancing With The Stars, going to the ballet, and traveling with her family and friends. Nothing is more appealing to Dr. Novack than a day at the beach and a good book!